Mathematics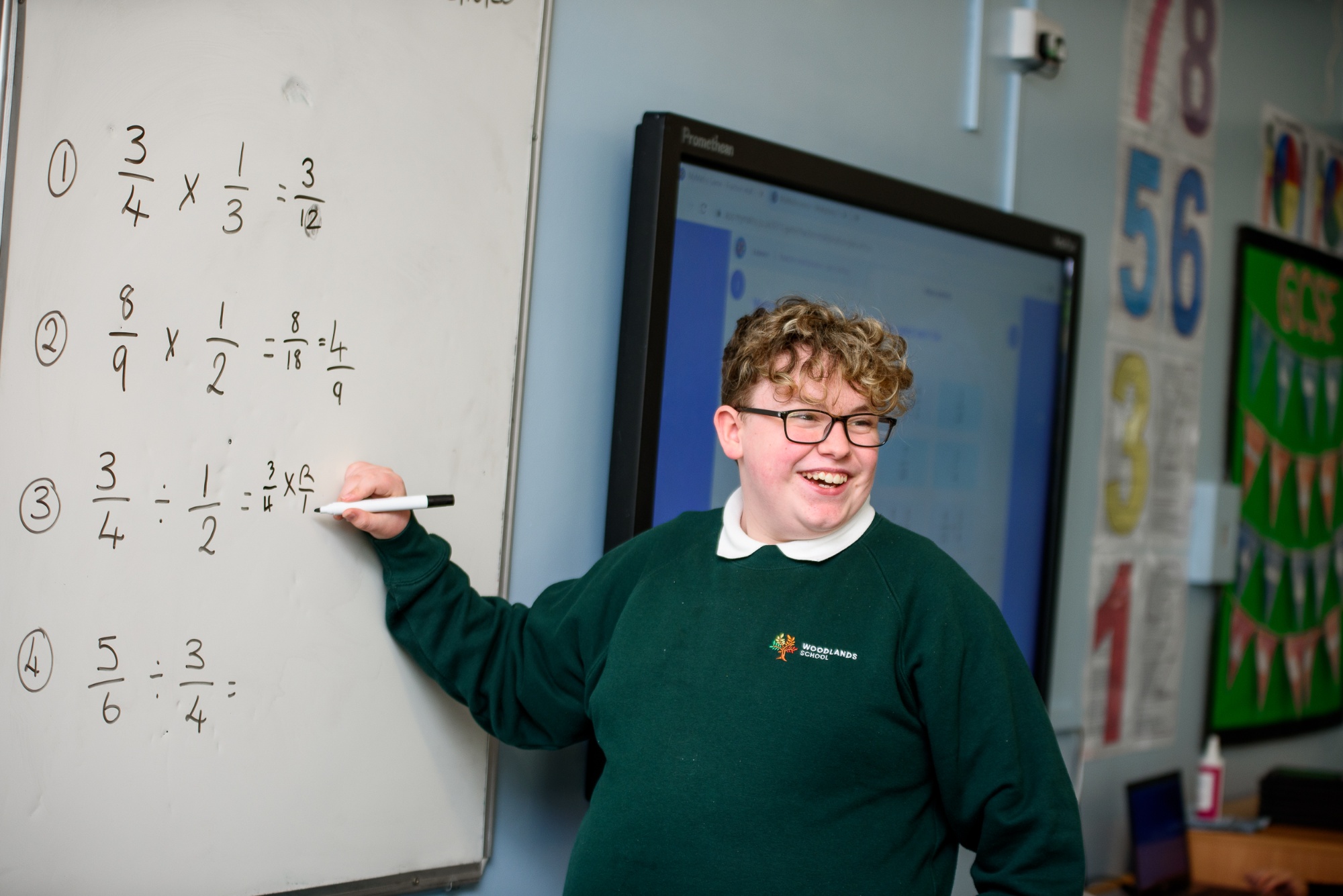 Mathematics is an all-embracing and pervading part of life, not just in the class room but all around us, from calculating which packet of cornflakes is the best value to working out the speed you would be travelling on 'The Smiler' at Alton Towers. It helps us to create, plan, organise and solve problems from the smallest Sudoku to cracking codes in World War Two.
We aim to create an environment whereby students are encouraged and stimulated to develop a positive attitude towards this crucial subject and acquire the necessary concepts, skills and knowledge.
"In some subjects, such as mathematics… teachers plan learning in small steps. They make the work interesting. They ensure that the work is at the right level for pupils. Pupils become immersed in learning and make progress." (Ofsted Nov 2020)
Throughout their Mathematical journey students at Woodlands School learn how to demonstrate their ability in numerous areas as we guide students towards achieving or exceeding their potential.  With ever-increasing emphasis being placed on the mathematical content of 'real-life' and functional situations, we endeavour to, where appropriate, use practical and investigative approaches. Students will also have opportunities to communicate their understanding to other students and to use ICT to enhance and improve their own learning and performance.
"The curriculum in mathematics … is well sequenced. Pupils in these lessons are more engaged in their learning." (Ofsted Nov 2020)
Mathematics in KS3
Pupils in KS3 are taught in mixed ability groups, mainly with their year group, following topics to cover the requirements of the National Curriculum. Pupils experience a broad and balanced curriculum with a range of opportunities given to consolidate their learning, become fluent with key mathematical procedures and develop problem-solving skills. Pupils cover topics from Number and Algebra, Shape, Space and Measures and Handling Data in line with pupils at mainstream schools.
Mathematics in KS4
Pupils in KS4 are taught in mixed ability year groups following the AQA GCSE Mathematics course at Foundation tier (grades 1-5).   Additionally pupils are given opportunities to attain an external qualification of Functional Mathematics Skills at Level 1 and/or Level 2 through the Pearson/Edexcel Online Tests.
The AQA GCSE course helps students develop further their knowledge and understanding of:
problem solving

reasoning

applying maths in context

the functional elements of maths
Subject content includes:
Number

Algebra

Ratio, proportion and rates of change

Geometry and measures
Paper 1: non-calculator, Paper 2 and 3 calculator
What's assessed for each exam:
Content from any part of the specification may be assessed.
How it's assessed
each written exam: 1 hour 30 minutes

80 marks

33⅓% of the GCSE Mathematics assessment
Questions
A mix of question styles, from short, single-mark questions to multi-step problems. The mathematical demand increases as a student progresses through the paper.
Homework
We subscribe to MyMaths which provides access to a range of online homework tasks that have been proven to raise standards of achievement. All pupils know their log-in details but should they forget we can provide you with their details to access MyMaths alongside your child. You will then be able to support your child's learning by seeing what they are working on and checking their progress.   http://www.mymaths.co.uk
KS3 pupils also have logins for Times Table Rockstars which can be accessed at home to practise times tables skills on a free phone/tablet app or through the online website https://ttrockstars.com/login