Curriculum
"Come to the edge. We might fall.
Come to the edge. It's too high!
Come to the edge!
And they came.
And he pushed
And they flew."
Christopher Logue


Woodlands is a special place built from love, trust, empathy, and support in an atmosphere of high expectation. A deep understanding of the diverse needs of every child is at the heart of what we do. Our curriculum is rich, broad and ambitious with a sharp focus on personal development that supports our pupils to create happy, purposeful and rewarding futures. Our pupils learn through rich experiences that enable them to see what the world has to offer them, and in return what they are able to contribute to the communities they belong to, locally, nationally and globally.
At Woodlands, we recognise that our curriculum is created and driven by the best interests of our learners. The curriculum is broad and balanced, based around key questions and enquiry-based learning and is fundamental in both supporting and developing the pupils SEMH needs. Identified SEMH skills are assessed, discussed and tracked through the pupil centred plans that link back to their EHCPs. Each pupil's EHCP is the starting point at the heart of their own journey, with a curriculum built around them to meet their individual needs.
We want our pupils to BE the best versions of themselves and we endeavour to build a curriculum around this aspiration to enable them to gain the knowledge and skills necessary to shape and realise their dreams. We will provide the experiences they need, throughout their time at Woodlands, to practice their skills and apply their knowledge so they are confident and ready for their next steps in life.
We use the Read / Write Inc phonics programme across the school
We pledge our pupils will:
feel part of our family, loved, and supported by the adults around them
know they have an irreplaceable and unique part to play in our school community
Know their voice matters and they are understood and heard
experience learning that is planned around them and their specific needs
be taught the knowledge and skills they need to have successful, enriched lives
understand that mistakes are the basis for progress and feel able to take risks in their learning, gaining confidence along the way
have a breadth of wonderful opportunities and experiences, inside and outside of the classroom.
have the opportunity to develop personally and to practice the skills they need for adulthood.


We are a dedicated and committed staff. We pledge to:
act as guides to young people who have struggled with the uncertain terrain of their own educational journey.
have relentless, unfaltering ambition for the peaks we know our pupils can climb
plan learning meticulously to meet the needs of each pupil to support their progress
promote a love of learning in every interaction
emphasise learning by doing and provide hands-on projects and opportunities
inspire confidence and self-belief where previously there was doubt and fear of failure.
Provide opportunity for pupils to work with others: their peers, adults, and their communities
make our classrooms and learning spaces exciting places where we showcase pupil success.
remember the curriculum is everything we do.

Curriculum design specific to each Key Stage
The curriculum at Woodlands is designed to become progressively more challenging, sequencing learning and skills development so pupils can revisit and apply their knowledge and skills. Experiential learning is woven through every aspect of the curriculum with a strong focus on personal development for future success.

The curriculum at Woodlands is implemented in three stages.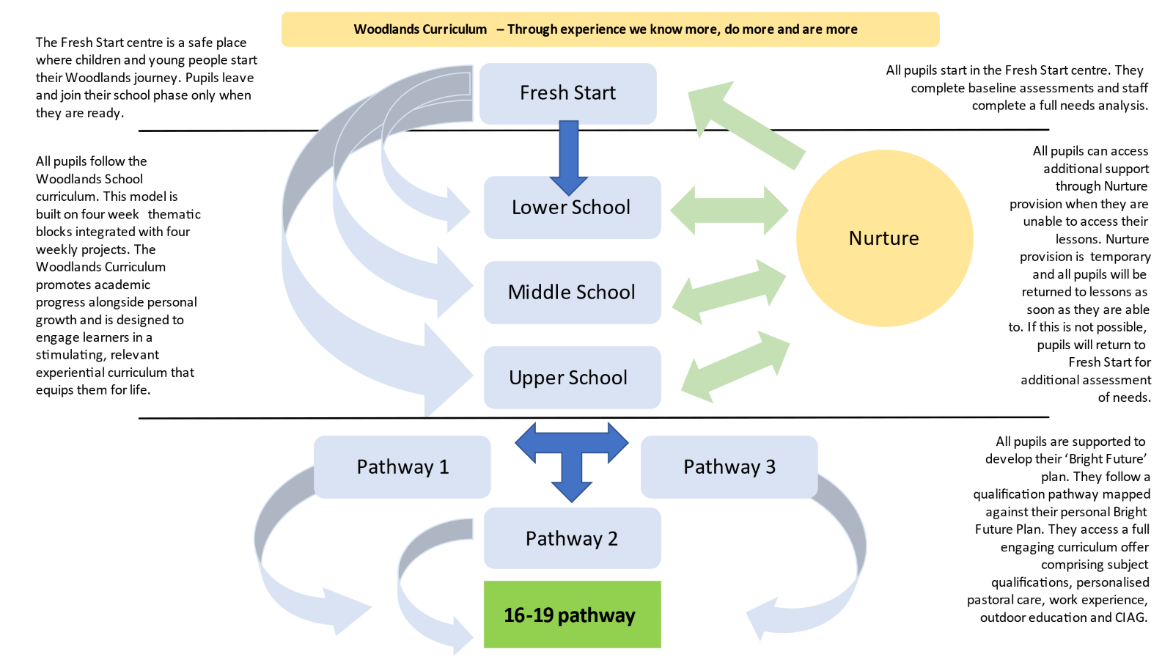 Lower School: Broadly Key Stage 2 and year 7.
Foundations: Emilia Reggio inspired approach
The emphasis for this stage of the curriculum is building foundations for successful learning. Pupils will be grouped by stage rather than age. This takes into account their individual specific needs, their ability to regulate their own behaviour, their academic ability and their need for a nurture-based approach.
Pupil's will be grouped through wider discussion with staff, parents and carers, and external agencies who know the child well. The grouping is fluid and not fixed. Some pupils may move between groups.
Year 7 pupils ready to move to the next stage of the curriculum will join the Middle school curriculum groups as and when they are ready.
The curriculum design is based around the key themes and is a child-led approach, similar to the Emilia Regio curriculum that research has shown to be successful in early years to encourage genuine engagement with learning that is provoked by the child and guided by their teacher.

Middle School: Broadly Key Stage 3 Year 8 / 9
Enrichment
The emphasis for this stage of the curriculum is love of learning and future self. Again, pupils will be in mixed age groups based on their needs. This can include their social, emotional and academic stage and ability. Pupils will be grouped at the beginning of the year based on a broad discussion with staff, parents and carers and external agencies who know the child well.
The curriculum at this stage is based on a thematic approach with 4 weekly key questions guiding teacher planning for learning in each subject across the curriculum. Staff will work together to ensure a cohesive plan to address the key question across their own subject areas. In each subject learning will be sequenced to address progression through the subject but also through the sequence of thematic learning across the school.
Subjects offered at this stage will be broadly in line with the national curriculum with an additional emphasis on their future choices and next steps. Vocational learning will be offered on a carousel to enable pupils to experience multiple vocational options before deciding on their pathway in upper school. Careers education, information and guidance will be clearly structured throughout this stage to support pupils to think of their future selves in a positive and aspirational way. Pupil learning will be knowledge rich with an emphasis on developing skills, personal, social and practical, to be successful adults.

Upper School: Broadly Year 10 and 11
Destinations
The emphasis for this stage of the curriculum is destinations. Pupils will be supported to acquire the qualifications, skills and experiences necessary to make the often-difficult transition from school to their future lives. There is a heavy emphasis on broader collaboration with post 16 providers and external agencies who have known the young person throughout their time at Woodlands.
Pupils will be grouped into pathways based on their specific needs and aspirations. Each pathway will have a slightly different focus enabling pupils to gain confidence. Pathways will allow for an adaptive approach where a pupil may cross two pathways e.g. significantly more able / attuned to one specific subject area.
Pathway 1: GCSE (Core and foundation subjects) / Vocational qualifications / Functional Skills / Personal development curriculum / CEIAG
English Language, English Literature or a humanities subject, Maths, Combined Science + 2 vocational qualifications
Pathway 2: GCSE (Core) / Vocational qualifications / Functional Skills / Personal development curriculum / CEIAG
English Language / Maths / Biology = 3 Vocational Qualifications
Pathway 3: Functional Skills / Entry Level + 3 vocational options + bespoke package

In addition to the thematic approach across all stages of the school and all curriculum areas, all pupils will experience the opportunity to apply their knowledge and skills to a whole school, 4 weekly project. Each project will enable pupils to work towards an AQA unit Award qualification that encompasses 5 key skills for life, building a portfolio of evidence to showcase their progress and achievement demonstrating
Positive Engagement and Creative thinkers
Team players: Communication and Collaboration
Self-motivated and independent contributors
Community– minded citizens
Inspirational leaders